Volunteer Profile: Linda Jager – Civilian lends service to the armed forces
Before joining the Cascades Region in
2012 as a Services to Armed Forces volunteer, Linda Jager had already provided
valuable service to the American Red Cross. Starting in 1968 she spent 800
hours as a Red Cross volunteer at the Veterans Hospital in Portland.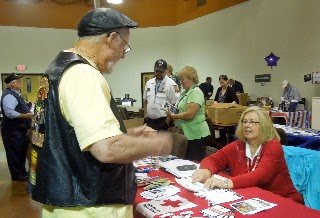 While studying at Portland State
University in the late 60s, Linda learned about a Red Cross program in Vietnam.
She applied and was hired by the Red Cross to serve for a one-year tour. Her
core responsibility in Vietnam was to develop and present recreational
activities at recreation centers and military sites and
distant
combat outposts.
These activities focused
on taking the minds of war-weary soldiers, airman, marines and sailors off the
perils of their work and momentarily allowing them to enjoy lighthearted group
interaction.
In 1973, Linda was hired by the
Department of the Army to direct recreational programs on Army posts in Korea.
This assignment extended to six years and had the side benefit of allowing her
to complete graduate courses in social work. She was reassigned to Walter Reed
Army Medical Center in 1979. Other follow-on military assignments included
promotions to supervisory positions working in social services. She retired as
an Air Force civilian with 35 years of service with military programs. Soon
after, she was hired as a Veterans Service Officer for Washington County and
then as a Department of Defense contractor with Employer Support for Guard and
Reserve, ESGR. Unknowingly, Linda has spent years preparing for her role as a
volunteer in our Services to the Armed Forces (SAF) office working with her manager
Donna Winkler.
Working together with SAF volunteers she
has expanded opportunities to provide services to all local military to include
active, reserve, guard, veterans and their families.

For more than 150 years, the Department of
Defense has tasked the Red Cross with vetting emergency communications from
families for all military services.

SAF
staff will follow up and close an average of 250 emergency messages every three
months.
During the past year SAF volunteers have
focused on supporting18 state-wide Yellow Ribbon resource events supporting the
mobilization of 1,100 Oregon Guard forces to Afghanistan and Kuwait. All local military
services participate in pre and post deployment briefings on benefits and
services.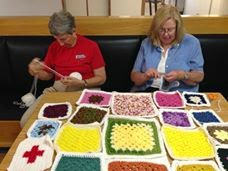 Another
focus of the Red Cross Service to Armed Forces program is membership on the
Volunteer Services Board at the Veterans Hospital in Portland. Each month our
SAF manager represents the Red Cross at Board and Executive meetings. Operation
3 Square is one popular initiative where individuals, groups, and business
partners are providing crocheted and knitted squares. The squares are made into lap blankets and
then donated to the VA hospital.


This year SAF volunteers have also supported
Homeless Veteran stand downs in Portland, East County, and McMinnville. More
than 400 veterans attended the Portland event in September, representing active
service from the Korean War to the present.
At these events government, medical , employers, and community agencies offer
services.
Linda says SAF has a long history of providing support for military and their families with vital social services. "We have a fine group of volunteers dedicated to offering the ten recurring SAF services to our military. These include: Emergency Services (emergency communications, family follow-up, disaster services), Financial Assistance, Suicide Prevention Actions, Service to Military and VA Medical Facilities, Service Member, Veteran and Family Support (health and safety skills, education, resiliency/mental health education, veteran appeals support), Education (outreach and briefings), Information and Referral, Engage Volunteers and Meeting Additional Needs (veteran stand-down events, Veteran's Day programs, etc.). With the large population of Oregon military throughout the state, and Southwest Washington, we could certainly benefit from more volunteers interested in joining us to help them to become more resilient and enhance their transition to and from their military mission."
Our Volunteer Profile
series, written by communications volunteer Patrick Wilson, offers a weekly
glimpse at some of the incredible people who help to deliver our mission. We
are grateful for their compassion and commitment.