Volunteer Spotlight: How Vietnam Shaped Linda Jager's Red Cross Story
Story by Harriet Vanderbilt / Red Cross Cascades Region
The American Red Cross relies on generous volunteers who give their time and talent to help fulfill our lifesaving mission.
In fact, volunteers make up roughly 90% of the total workforce carrying out our humanitarian work! We know our volunteers are remarkable and from time to time, we come across a story that not only encapsulates the heart of the Red Cross but exemplifies how extraordinary our volunteers truly are.
Linda Jager first began volunteering with the Red Cross in 1969 and served in Vietnam. The Cascades Region Blog asked her to share her experience and here's what she had to say.
---
"Between 1965 and 1972, it was not uncommon to see young American women in Red Cross uniforms conducting simple but sometimes refreshing audience-participation programs for frightened and lonely GIs in Vietnam. The program was titled Supplemental Recreation Activities Overseas or SRAO and my job was to develop on-site recreation programs, competitions, and boost the morale of American GIs.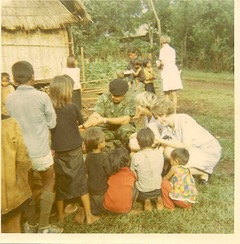 Let me tell you a little about what it was like for me.
I remember standing in the middle of a large field, surrounded by tanks. The day before, one of these tank units had lost some of their men. There I was, trying to cheer them up by playing 'Concentration' the TV game.
In 1970, U.S. troops were fighting some of the fiercest battles of the war. Our task seemed ludicrous. But, slowly, something began to happen.
First, there were a few smiles, then, a couple of wisecracking jokes. Gradually, the men got caught up in the program. A few months later I saw the same men and asked them if they would have rather been left alone, possibly to mourn their friends in private. They said the program was silly, but that it had worked. It took their minds off what had happened and allowed them to respond and then be ready to face the next day.
We traveled mostly by helicopter, 627 of us, and logged thousands of miles each month, reaching out to men and women stationed at remote infantry camps and artillery bases throughout Vietnam. We saw Vietnam from an unusual perspective. Each day, we went to service clubs, units, mess halls, hospitals or off into 'the bush,' where the war and men who fought in it, became an intimate part of our lives.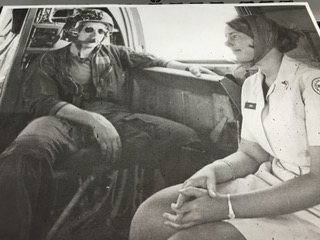 On a typical day, we would rise at 5:30 a.m., board a UH-1H "Huey" helicopter and depart with a large canvas club mobile kit and partner. We would visit an artillery platoon for breakfast, move on to another firebase before lunch, and repeat this program four or five more times that day. Working 10-12-hour days, six days a week we were overwhelmed by our intended task and outnumbered by our audiences.
For most of us, Vietnam was comparable to living in a fishbowl. We had to be up all the time. It was only when we were in our billets that we would cry, scream, or let ourselves talk about our experiences.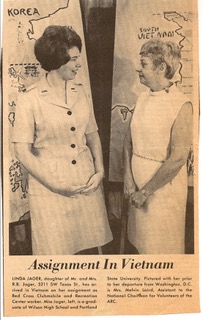 The pictures I have remind me of the places, Pleiku, Freedom Hill, Monkey Mountain, and Danang Air Base. The memories I have remind me of the people, my role, and my purpose for going."
– Shared by Linda Jager, February 2020
---
Linda Jager embodies the essence of helping lift people up. During her professional career as a Federal Civilian with the Army and Air Force, she provided social services to military members. Linda returned to the Red Cross in 2012 to volunteer with Service to Armed Forces (SAF) and has been doing so ever since.
Volunteers, like Linda, are the heart of the Red Cross and we couldn't fulfill our lifesaving mission without them.