Rascal Flatts Lead Guitarist Returns Home To Picher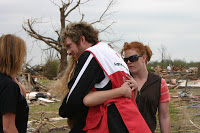 Remember the town of Picher, Oklahoma that was devastated by a tornado earlier this week? Well, turns out it's the hometown of celebrity cabinet member Joe Don Rooney, lead guitarist for Rascal Flatts. He went back to Picher this week to volunteer at the disaster site and console friends there. (The photo to the left is of him hugging a family friend in Picher.) The official word is that he is "expected to make an appeal to the American Red Cross Disaster Relief Fund during the Academy of Country Music Awards" this Sunday.
I think it's a really touching reminder, in this time of disasters around the world, that every one of us can make a difference.
Rascal Flatts is the recipient of the 2008 Home Depot Humanitarian Award and is nominated for Entertainer of the Year in addition to Top Vocal Group award. You may remember
I blogged about their latest video
(that happens to feature the Red Cross).