You're Not Too Emo to Save Lives, Are You?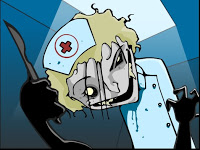 Best. Line. Ever.
While browsing the Pacific NW Regional Blood Services website, I stumbled upon a link to the "Epic Adventures of a High School Blood Donor" microsite. There's some good stuff on there about giving blood — FAQs and info about eligibility and the donation process — but the very best part is the flash-animated movie.
Though they haven't posted any new episodes since September, the first one's a doozy. Aside from the line cited above, there's the lovely image of a psycho vampire Red Cross nurse saying, "It's sleepytime!" in the world's most menacing way.
In short, thank you Chris Bodily for creating this gem and giving us all a good laugh as we slowly get back to work after a three-day weekend.