Another Weird Shout-Out, This Time on the Style Network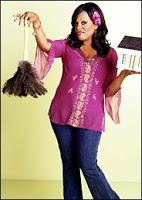 The American Red Cross gets some weird shout-outs. Take, for example, the ARC logo flashed after Steve Carrell's CPR class.
Tonight I caught another one while flipping channels. This time, it was on The Style Network's "Clean House Comes Clean" and the hosts were chatting about how they intervene in times of crisis to — obviously — clean up the house.
To quote Matt Iseman, "Our job is to remove clutter and bring relief, like the Red Cross…if the Red Cross had a really sassy design sense."
Oh come on now, Matt. We're sassy! Did you see the Threadless partnership? Or the cool flash animation? And our logo! Maybe it's not sassy enough for you, but it's certainly a design classic.