Have You Seen This Cross?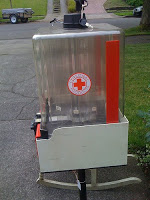 Since Robin just reminded you of our I'm Red Cross Ready Flickr group, I wanted to chime in that there's another Flickr group just waiting for your photos.
I added three this weekend myself — seems everywhere I went, I was Cross Spotting. One's from elsa + sam, a brand new dishwares store on SE Hawthorne, and two are from the Eastmoreland Neighborhood Garage Sale.
And despite my penchant for thrifting, I was not tempted to buy the "personal products" dispenser. Honest.