Reader's Digest Helps Gets People Prepared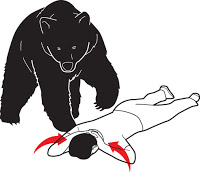 I don't usually pick up Reader's Digest, but I happened to be browsing the June issue yesterday and came across a very cool story: "Save Your Own Life — How a chair, rocks, aspirin, and a scarf can keep you alive in 12 do-or-die emergencies."
What first caught my eye were the illustrations by Lason Lee. A little retro, basic color palette and kind of cool in their simplicity. I'm thrilled that they're online with the article so you can see for yourselves.
In any case, when I went to their website to find you some links, I found even more goodness — a recent blog by RD Health Editor Julie Bain entitled, "Are You Prepared for an Emergency?" and a whole slew of products that make it easy to save someone's life.
Lest you think there isn't a Red Cross tie here, there is. They recommend our emergency preparedness kits (buy one here from our chapter store) and there's a nice quote in the first article from the Red Cross' Dr. Richard N. Bradley.
Thanks Reader's Digest for getting on board the preparedness train!