Are You Ready For Wildfire Season?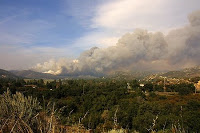 Today's the day. Fire season officially begins in NW Oregon.
Nonetheless, fires have gotten off to an early start, both here in Oregon and down in California. The Tumalo Creek Fire was burning just about five miles northwest of Bend, and the Deschutes River Woods fire is now out.
People are also talking about the fact that most of Oregon's haze is not coming from wildfires within our state, but from down in California. This is a challenge because it's hard for mountaintop fire lookouts to spot new outbreaks. Fortunately, planes are having more luck.
In California, the number of wildfires burning tops 1,400 and it isn't expected to get any better. We're prepared to send one of the Emergency Response Vehicles (ERVs) from our chapter to California, if needed.
Given all this news and the fact that fire season is only just beginning, here's some information about how to be safe if wildfires threaten your area.