Gored By A Bull? The Red Cross Is There.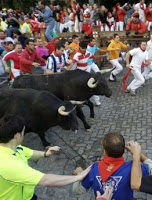 Last week, we told you about the work of the Red Cross at the Olympic Track and Field trials in Eugene, Ore. And what could be more exciting than the Olympics? Perhaps the element of mortal danger that comes with the infamous running of the bulls in Pamplona, Spain.
Yes, that's right. The Spanish Red Cross (or Cruz Roja Espanola) is on hand to help treat the injured. No fatalities, but according to this article, there were 13 people who were bruised, trampled or otherwise hurt. Really, they're running with BULLS. What do you expect?
This weekend is an even bigger run, so expect the Red Cross to be extra-busy. I can't say that I'd want our chapter to take on a role like this, but being ready to provide first aid — regardless of where and why it's needed — is a huge part of what we're all about.
REUTERS/Dani Cardona (SPAIN)