Deep In The Heart Of Texas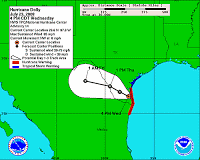 You may not know this, but I once lived in Texas. And not the hipster mecca of Austin either…good ol' San Antone.
So as I watch Dolly's progress, I feel just a twinge of nostalgia for the days when I worked for the City of SA. I've even sent notes to a few of my former co-workers asking them to share any stories from on the ground if they have 'em. But I digress…
While I'm not getting deployed for this particular event, two fellow Oregonians are. Carol G. and Carolyn S. are headed to San Antonio tomorrow to lend emotional support as disaster mental health volunteers. Good luck to them!
P.S. Right on the front page of the City's website, they have a link to "Ready South Texas." The Red Cross isn't a part of their team (I wonder why not?), but the tips:
1. Prepare a Kit
2. Make a Plan
3. Get Informed
sound awfully familiar…