Give 'Til It Hurts: SAW V Blood Drive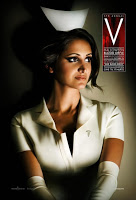 A few years ago, I saw a midnight movie at the Sundance Film Festival. The premise was good — two men are locked in a room with a dead body, trapped there by a serial killer.
While the movie didn't live up to my expectations, evidently a few of you liked it. That little indie flick wound up turning into a full-scale franchise that you might have heard of…SAW.
Little did I know when I saw the film that I'd wind up working for the Red Cross, where our paths would cross once again. Yes, even though October is a LONG way off, with the release of this new poster, it's time to start thinking about the Halloween Blood Drive (note: this link is from last year's event) and another year of partnership between Lionsgate, Yahoo and the American Red Cross.
With a slogan of "Give 'Til It Hurts," I'm hopeful that something good can come out of a horror franchise of which I'm not a huge fan. Are you going to put donating blood on your Halloween agenda?