Watch Football, Help The Red Cross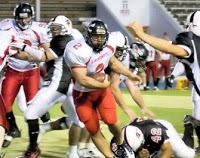 Despite the fact that I attended a Big 10 school, I've never been a huge football fan. But, like NASCAR before it, the Red Cross is making me change my tune.
Check out, for example, the East County Blackshirts. They're pretty cute guys and they're nice, to boot. How do I know this? Because they're generously offering a share of the proceeds from their next home game to the Oregon Trail Chapter.
Here are the details:
Saturday, Sept. 6
Blackshirts vs. Saints
Mt. Hood Community College Stadium
7 p.m. (Gates at 6 p.m.)
Adults, $15
Ages 12-18, $12
Kids under 12, FREE
Though the Blackshirts are an amateur football team from Gresham and this is just their first year of play, they're already qualified for the national playoffs with a 5-to-1 winning streak. You can read more about them here.
If you head to the game on Saturday night, make sure to say "Hi!" to Red Crosser Barbara Niss, who made this all possible!