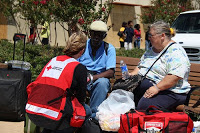 So you've been thinking about giving to the Disaster Relief Fund in advance of Hurricane Ike.
But aside from wanting to know where your money goes, you want to know — more specifically — how every last bit of it is spent. Well, we're here to help…
Fully 91 cents of every dollar donated to the American Red Cross goes directly to disaster relief efforts.
Nine cents of each dollar is used to cover the "management and general" expenses required to operate the Red Cross nationwide—put simply, the overhead that allows our volunteers to provide services to affected families.
Our M&G expenses include items like training, legal services, technology support, public information and stewardship costs, such as audit fees and fundraising expenses.
The 9 percent amount is consistent from disaster to disaster and is regularly communicated to the public and donors, and is presented in our stewardship reports and financial statements.
I'm hoping this knowlege makes you feel more at ease with making a gift at a local or national level to help us help those who will surely lose everything in the hurricane.
No matter what, the Red Cross will be there to help…but we'd rather be in a position of "raise first, spend later" than the reverse, which is definitely a business practice we'd like to avoid.