Offering Support After Soldier's Death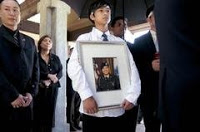 I'm always stunned to find out just how much the Red Cross does on a day-to-day basis and how many little stories almost slip through the cracks. Not because they're not important, but because we're often so focused on the blood and the classes and the disasters that they just don't bubble up.
One such story is that of Pvt. Tan Ngo, a 20-year-old Vietnamese American soldier from Beaverton. Ngo was manning the turret gun late last month near Kandahar when his patrol ran into an enemy unit that fired from an orchard with rifles and rocket-propelled grenades. According to The Oregonian, Tan Ngo was a young man who loved basketball, had a great sense of humor and who died before he was old enough to take a legal drink.
You might be wondering what this has to do with the Red Cross, but you might also recall two things: We offer many services to the military and we have psychologists on hand to provide emotional support in difficult times.
In this case, volunteer Dr. Tony Farrenkopf made contact with Tan Ngo's family, offering condolences and support. From his letter:
"[Tan's] loss is shared with your family by all Oregonians and the American community. 'Mikey's' sense of responsibility and his caring for others will be missed in the world. It is sad that it is your family, parents and siblings, who made this ultimate sacrifice, after you have endured so much in your lives. Please accept our sympathy and condolences."
Though the family didn't request any additional services, it's nice to know that the Red Cross was there to help if needed. It's amazing how many lives we touch every day — in Beaverton and far beyond.
Thomas Boyd/The Oregonian