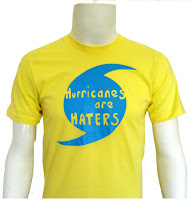 Not too long ago, reader Pap commented that the Red Cross needs some cooler t-shirts. I pointed him in the direction of the American Red Cross Loves Threadless competition (you can see two of the tees I brought home here).
I should have also linked back to this post, which had a witty design created to raise funds for flooding relief efforts in Iowa.
Today I bring you more clothing for a good cause. A minimum of $5 from the sale of each lemon yellow "Hurricanes are Haters" tee funds Red Cross disaster relief efforts for Ike and Gustav.
From the product page:
Back in '83, Hurricane Alicia tried to win me over by letting my dad and I have paper boat races in the ditch in our front yard. I started thinking hurricanes weren't so bad. Then that double-crossing #$%*& tore our garage door off. Since then, hurricanes and I are flying different colors. Katrina, Hugo, Wilma, Andrew. . . haters, son.
Look cute, help others. What could be better?