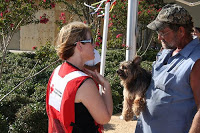 Those of you who know Daphne Mathew know that she's a Red Crosser extraordinaire. Not only is she my communications counterpart over in Blood Services, she's also a member of our chapter's volunteer public affairs team and has been deployed through Disaster Services on assignment.
Daphne is VERY well-liked, both locally and nationally, so it wasn't a surprise when she was tapped to help with public affairs for Hurricane Ike.
Since I know Daphne reads Cross Blog, I know she won't mind if I share the note we received from her below:
Hi everyone,
I sure miss home and this has been one wild ride. I've learned some huge lessons and I look forward to sharing them with you.
A bright spot in my deployment will be escorting MISS USA, Crystle Stewart, on a day long tour of our operations. We're going to get her out with the people affected by Hurricane Ike. She will hand out food from an ERV and visit shelters.
I might get to come home the day after her tour (will have been 14 days) I'll keep you posted on the decision, they are deciding later today. I didn't realize how much I would miss a normal day at the office and an average evening at home with my family.
Please keep the people of Texas in your prayers. So many lives have been turned upside down and it will be a rough journey to recovery, both monetarily and emotionally.
All the best,
Daphne
Again, if you're interested in helping the people of Texas that Daphne mentions, consider making a donation to the Disaster Relief Fund.