Celebrating Halloween in Detroit?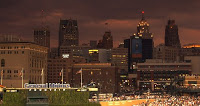 Yep, it's true — I will be in Detroit for Halloween. Sounds scary, huh?
But don't be worried about me. I'll be spending time at the Public Relations Society of America (PRSA) International Conference and then with my former college roommate, checking out my favorite Motor City haunts like this place.
I hope to come back with some new ideas for how our chapter can communicate with all of you; a greater appreciation of Portland (as much as I love it…it's DETROIT); and maybe I'll have done a little Red Cross Spotting of my own.
If you're a comms person who's going to the conference — Red Crosser or not — please get in touch, as I'd love to meet up. And if you have any interest in following along with the conference, which starts on Friday, you can follow it on their blog or on Flickr and Twitter.
Photo courtesy of toddalert