Chefs Master How To Deal With Disaster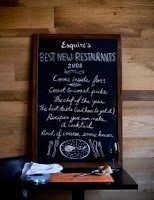 I'm not normally an Esquire Magazine reader, but who doesn't love knowing the Best New Restaurants of 2008? But the part of the issue that most interested me were the following two stories (from "The Other Awards"), which highlight how chefs roll with the punches during a disaster.
MOST RESOURCEFUL RESPONSE TO A MAJOR STORM
When Donald Link realized that the sudden temperature swings during Hurricane Katrina had "cooked" the wine in the cellar of his restaurant, Herbsaint, he did what any practical, country-raised cook would do: He made vinegar. He now uses it at his new place, Cochon, to turn out some of the best pickled vegetables I've ever had–fresh and crisp, with a deep sense of place. My favorite use: the Bloody Mary, garnished with pickled okra and laced with some of its tangy jar juice.
SECOND-MOST RESOURCEFUL RESPONSE TO A MAJOR STORM
Three years later–about six weeks ago–New Orleans was shut down by another storm, Gustav. With no deliveries and only minimal refrigeration provided by generators, chef John Besh drove into the countryside, from farm to farm, gathering whatever ingredients he could. For the next few days, his restaurant, Lüke, opened for lunch serving only makeshift specials like rabbit-stuffed bell peppers in pecan sauce. He served 150 people the first day.

I love these examples of how disasters make you think outside the box, sometimes inspiring incredible ideas along the way.
Oh, and thank goodness I just ate lunch. I'd be hungry all over again after reading that article.
P.S. Portland's own Beast made the "other" list for "Most Tolerable Example of the Communal-Table Trend."