Do You Believe In Africa?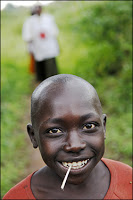 Today is the final day of the 7th Pan African Conference. Actually, given the time difference between Oregon and Africa, I'm pretty sure it's over by now. But I digress…
During the conference, 53 African National Red Cross and Red Crescent Societies talked about today's humanitarian priorities in Africa and set the agenda of the Red Cross Red Crescent Movement for the next four years.
The conference was also the launchpad for a new campaign called Believe in Africa. Essentially, the IFRC (and many others) are concerned that media coverage of Africa focuses on war, famine and poverty almost to the exclusion of everything else. And there appears to be some anecdotal evidence to back this up — you can see the analysis here.
So what is the IFRC doing to change this perception? Without trying to distort the news agenda, they are working to promote more positive images and success stories from the continent. And to emphasize the developments that are continuously taking place, there's a Good News For Africa competition now open to professional (African) journalists. You can see the rules here.
A friend of mine just got back from Nigeria and is headed off to Somalia in December. I haven't heard a recap of his experience just yet, but I have seen an awful lot of photos and — despite the hardships — there were a ton of smiles. So far, he's had nothing but wonderful things to say about Africa and its people, making me believe that there are indeed plenty of uplifting stories to be found.