Ensuring the Safety of Coastal Residents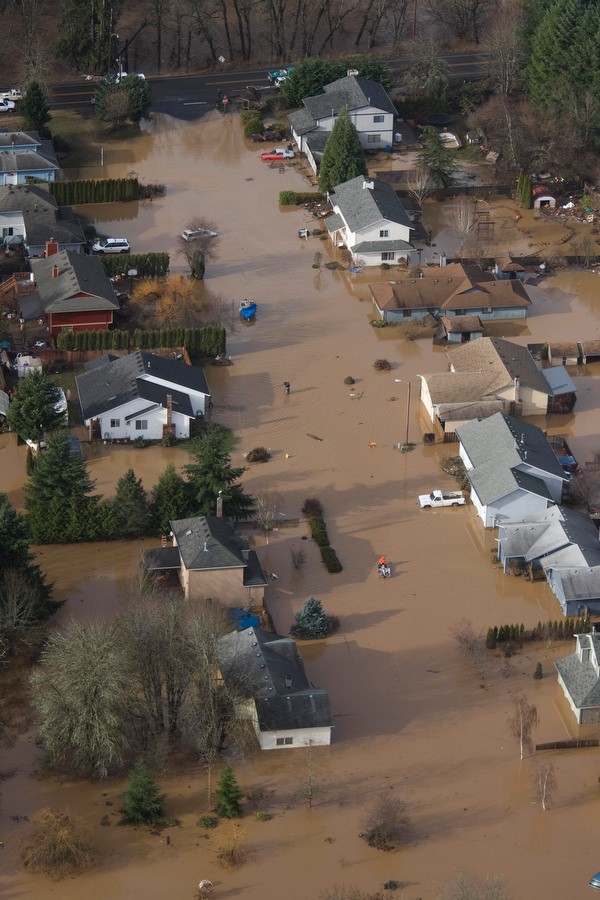 Great news: we're taking action on the lessons learned from the December 2007 storms that pummeled the coast and neighboring communities. You'll remember the extensive damage, as seen in this photo taken by The Oregonian last year. This press release just went out the door:
Red Cross Prepares Oregon Coast for Winter Storms
Additional emergency supplies now arriving
PORTLAND, Ore. – Nearly one year ago, Oregon's northern coast was pummeled with record-setting storms and flooding. This year, the Oregon Trail Chapter of the American Red Cross is positioning new stockpiles of supplies and materials throughout the area, more than doubling the number of people who can be helped in the immediate aftermath of an emergency.
Starting today, the Oregon Trail Chapter is delivering seven trailers filled with cots, blankets, personal comfort kits, cooking supplies, cleaning supplies, HAM radios, nurse's kits and shelter kits to communities along the northern Oregon Coast. Additional supplies arrived today in Cannon Beach, and will be delivered to Pacific City, Manzanita/Nehalem, Warrenton, Astoria and Seaside by November 10. The Red Cross has recently pre-positioned additional emergency supplies in Clatskanie and Vernonia, as well. Supplies are housed in trailers so that they are mobile, and can be made available to neighboring communities when needed.
Added Governor Ted Kulongoski, "The Red Cross plays an important role in disaster preparedness and response, and these supplies are critical to that mission."
"The Red Cross is making this $125,000 investment because increasing coastal preparedness is a priority for the organization," said Thomas Bruner, CEO of the Oregon Trail Chapter and Regional Executive for Oregon. "This investment increases the capacity of communities to care for themselves and each other when – not if – the next disaster strikes."
Additional supplies mean care can be provided for 1,500 people in the first 72-hours following a disaster – a 100% increase over the current supply capacity. 72-hours is the timeframe that Oregonians should be prepared to care for themselves until help can arrive.
"These supplies mean that communities who are cut off by flooded roads will have access to much needed disaster services" said Tillamook County Commissioner Mark Labhart. "We are so pleased that the Red Cross has addressed this critical need. It will save lives."
State Senator Betsy Johnson, whose territory covers this region, agreed. "Coastal communities have the potential to be devastated in a natural disaster. Pre-positioning supplies will expedite relief efforts. This kind of proactive planning is a hallmark of the Red Cross and we are very appreciative of their efforts."
While the additional disaster supplies are important, they are only one step in a larger Red Cross coastal preparedness plan – tripling the ranks of active volunteers in Columbia, Clatsop and Tillamook counties in 2009, and pre-positioning many more supplies along the coast. The Red Cross will train residents in disaster response for emergencies year-round.
To get involved, contact the Oregon Trail Chapter of the American Red Cross at 503-528-5624 or email gibneym@redcross-pdx.org.