Ten PR Lessons From Hurricane Ike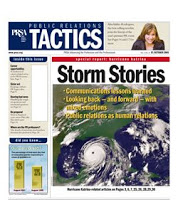 I've been playing catch-up, and this morning it was time to go through the mail. In it I found the latest issue of Tactics, one of the publications put out by the Public Relations Society of America (yep, the same folks from the conference).
In the November issue, Dan Keeney of DPK Public Relations, contributed an article about 10 PR lessons learned from Hurricane Ike. Here they are:
1. Encourage every employee to have a family crisis response plan.
2. Don't sugarcoat the facts.
3. Maintain multiple redundant communication methods.
4. In the aftermath, deal with human suffering first.
5. Every decision has consequences.
6. Action and communication must be in alignment.
7. Maintain fully operational off-site facilities.
8. Nothing says "concern" and "control" like placing your leader at the scene.
9. Monitor traditional and new media coverage.
10. Constantly search for ways to serve the public.
For the last item, Keeney says, "In the days leading up to the storm, The Home Depot was active on Twitter, posting tips and recommendations, interspersed with information about the store locations that were stocking pre-storm supplies. It was a perfect blend of public service and marketing."
I wish I could find the whole article online, but I can't. I did, however, find a very similar Ike article by Keeney right here.
For you communications types, Tactics promises stories from those affected by the storm in the December issue. Should be interesting!
P.S. BTW, if you're wondering, Keeney has indeed worked with the Red Cross before.