Staying Connected With TroopTube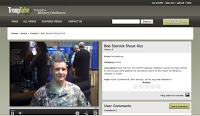 So you're a fan of the Red Cross' Service to Armed Forces on Facebook. You've already mailed your holiday card. Maybe it's about time you made a video.
According to CNET, the U.S. military just launched a new site called TroopTube which looks and functions much like YouTube. If you're a member of the U.S. Army, Navy, Marines, Air Force, Coast Guard, or National Guard you can register with the site for uploading. There are also options to register as a family member or civilian friend.
There are many ways that we work to keep families connected as loved ones are deployed around the world. In a time when pen and paper have given way to e-mail and IM, it seems like it's about time that video-sharing makes its way to our troops.
Good luck with the new service, guys!