Natural Disasters 'Killed Over 220,000' In 2008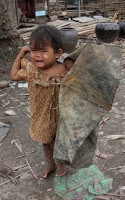 Need a little reality check about the dangers of natural disasters? See this article, based on a report by Germany-based reinsurer, Munich Re.
According to the article, although the number of natural disasters was lower than in 2007, the catastrophes that occurred proved to be more destructive in terms of the number of victims and the financial cost of the damage caused.
Here's a quick look:
Cyclone Nargis: 135,000 dead, more than one million homeless
Sichuan Earthquake: 70,000 dead, 18,000 missing and almost five million homeless
Cold Snap in Afghanistan, Kyrgystan and Tajikistan: 1,000 dead
Flooding in India, Nepal and Bangladesh: 635 dead
Typhoon Fengshen: 557 dead
Pakistan Earthquakes: 300 dead
Also stunning is that 2008 was the third most expensive year on record, in part due to the Sichuan earthquake, which caused around 85 billion dollars worth of damage.
Only 2005, when a large number of hurricanes slammed into the southern United States, and 1995, year of the Kobe earthquake in Japan, have wreaked more destruction since records began in 1900.
Most impressive is that "we" (via the International Federation of Red Cross and Red Crescent Societies) played a role in the response and recovery efforts for most — if not all — of these disasters, as well as the ones right here at home.
Here's hoping that 2009 doesn't set any new records, disaster-wise. But, just in case, it always pays to be prepared.
(AFP/File/Khin Maung Win)