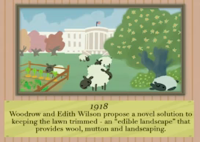 While reading this article about an Oregonian nominated to be the White House gardener, I learned this bit of historical trivia:
President Woodrow Wilson brought in sheep to graze on the White House lawn during World War I as part of the war effort. They kept the grass trimmed and
their wool was auctioned to raise money for the Red Cross
.
By the way, growing and canning your own food is an excellent way to be prepared for disasters!