Family Experiences Second Fire; Thanks Red Cross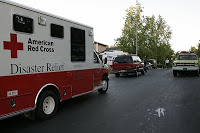 Can you imagine the trauma of losing a loved one in a fire?
Now…imagine having ANOTHER fire in your home, just 10 years later. How would you react?
This is the exact situation that one Oregon family found themselves in recently. Back in 1999, the wife was involved in a fire that claimed the life of her father. When a second fire occured, she was incredibly traumatized, even though her husband and children made it out safely. An officer on the scene was prepared to take her to the hospital to be treated for shock.
But then, "a bright red vehicle pulled up with the American Red Cross on it, and three workers came out with smiles and hope on their faces." They were there when they said they would be, and were professional and compassionate with the family.
The officer shared that this was one of the best Red Cross responses he'd ever seen, and that the family was incredibly appreciative and told him that they could not believe help arrived so fast. Both the family and the officer thanked our responders from the bottom of their hearts.
Big or small, when a disaster happens, the Red Cross is there — ready to provide food, clothing, lodging and, most of all, emotional support. If you're interested in working as a disaster responder, sign up to become a volunteer.
We can't do our work of rebuilding lives without your help!