Share Your Story; Win Keith Urban Tickets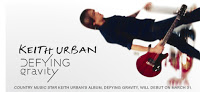 While I'm still holding out hope that one day the Red Cross will make friends with celebrities that are a little less country and a little more rock 'n' roll, I know there are tons of Keith Urban fans that will be thrilled to hear this news…
From March 2 through March 16, submit your "Red Cross story" and you could win two tickets to see Keith Urban when his tour lands in Washington, DC.
If attending the concert weren't enough, you'll also get backstage passes, hotel accommodations, and — the most exciting prize of all — a tour of the National American Red Cross headquarters' Disaster Operations Center.
Plus, if you don't win the grand prize, you still won't go home empty handed. Every single entrant gets 10% off in the redcross.org store.
It only takes 75 words or less to tell us how the Red Cross changed your life or someone else's. Share your thoughts!