Lizzie Bell's Constant Need for Blood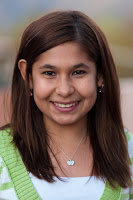 Imagine your life being completely dependent on the generosity of others. Fourteen year old Lizzie Bell of Tucson, Arizona knows what that's like. Lizzie suffers from Diamond-Blackfan Anemia, a rare blood disease that requires her to receive blood transfusions every few weeks. Lizzie's life depends on frequent blood transfusions and without the blood of others, Lizzie could not live.
Last Sunday night, the ABC Television Network gave us a glimpse in to Lizzie's life through an episode of "
Extreme Makeover Home Edition
," a reality series providing home renovations to deserving families. If you saw the show, you now know about all the hard work Lizzie has done to raise awareness about the need for blood donations. If you didn't see the show, click
here
to view the full episode online.
Warning: do not watch without Kleenex in hand! If this doesn't make you cry, you're not human!
To help people like Lizzie, make a blood donation appointment by calling 1-800-GIVE LIFE, or visit
http://www.givelife.org/
.