Experienced A Near-Drowning? You're Not Alone…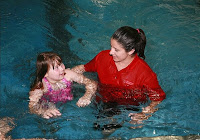 Some scary facts for you to consider, following a recent Red Cross survey*:
* Of those surveyed, 48 percent reported a near-drowning experience.
* Nearly 1 in 3 said they had a near-drowning scare between the ages of 5 and 15.
While more than 90 percent of people plan to participate in water-related activities this summer, nearly half of parents with children between the ages of 3 and 17 plan to engage in activities where no lifeguard would be on duty.
According to a study by the Centers for Disease Control and Prevention on water-related injuries, the drowning rate in the United States averages nine people per day.
Twenty-five percent of fatal drownings involving children 14 and younger.
Nearly one in three parents (30 percent) believe that "floaties" are better than supervision, though we stress that floaties cannot be used as a substitute!
With Memorial Day coming up this weekend, now's the time to think about Learn To Swim, water safety and CPR/first aid classes. Give us a call at 503-284-1234 or just visit our website.
* The telephone survey of 1,002 U.S. adults 18 years and older on March 20-23, conducted by CARAVAN®, Opinion Research Corporation. Margin of error is +/- 3.1 percent at the 95% confidence level.