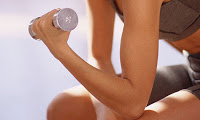 Excuse me, do you know where I can find the weight room?
It's iron-pumping time! No, not that kind of iron (I'm so NOT in the mood for the gym). I'm talking about the delicious kind–in food form!
As mentioned before
, it's important to eat iron-rich foods before donating blood. Here's an Iron Soup recipe from
Oxygen Magazine
that will help you prep for your next blood donation. In addition to being tasty, one serving of the soup provides 45 percent of your iron RDA (recommended daily allowance).
Iron Soup
1 tbsp olive oil
1/2 red onion, chopped
1 lb chicken breast, cut into cubes (OR cubed, extra firm tofu)
2-14 oz cans low-sodium chicken broth (OR vegetable broth)
10 oz spinach
1-15 oz can light red kidney beans, drained*
1-15 oz can dark red kidney beans, drained*
1-15 oz can cannellini beans, drained*
1. Heat oil over medium heat in a large pot. Saute onion for 2 minutes.
2. Add chicken and cook for about 10 minutes. Stir in broth and bring to a boil.
3. Add spinach and let simmer for 2 minutes. Add all beans, cover and let cook for 2 minutes. Let cool and serve.
Makes 8 Servings. Nutrients per serving: Calories: 360, Total Fats: 3g, Saturated Fat: 0 g, Trans Fat: 0 g, Cholesterol: 35 mg, Sodium: 440 mg, Total Carbohydrates: 50g, Dietary Fiber: 15 g, Sugars: 3 g, Protein: 33 g, Iron: 8 mg
* Rinse your beans to decrease sodium by 30 percent