Francisco Teaches Child CPR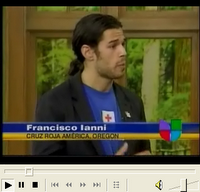 Last week, we posted a video from Portland's Univision featuring our instructor Francisco Ianni. Great information; wrong video.
Now we've got the right one, as well as some words from the teacher himself:
Sus habilidades para salvar vidas no sólo serán cruciales durante un desastre, sino también en una situación de emergencia que puede pasar en cualquier lugar en cualquier momento. Hay muchas situaciones potencialmente peligrosas que pueden ocurrir donde usted vive y trabaja. El estar listo para responder le ayudará a aprender a cómo mantener seguros a su familia y compañeros de trabajo.

Aprenda los pasos de acciones en caso de emergencias: Inspeccione la escena y a la víctima; Llame al 9-1-1 o a su numero de emergencia local; Cuide a la victima. Enseñe a los niños como marcar 9-1-1 en caso de una emergencia.
Esto podría salvar una vida.

Para anotarse en una clase por favor llame 503-528-5614.