Flickr Finds: A Disaster Response, In Photos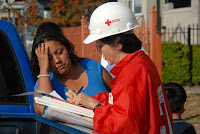 Did you know that, in Oregon, the Red Cross responds to a housefire approximately every 8 hours?
That means that — in less time than it takes you to watch Season 2 of Mad Men in preparation for this Sunday's season premiere — the Red Cross heard about a fire, headed to the scene, comforted the family, made sure they had food, clothing and a safe place to spend the night…and geared up to do it again.
Now you can see the work of these amazing disaster volunteers for yourself with a fabulous Flickr photo set from the Bay Area Chapter.
In this case, the Red Cross was called to help after a fire that displaced four families. Now see what they did.