Photojournalism Beyond the Front Lines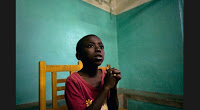 We've all heard the saying that a picture is worth a thousand words. And it's true — decades later, we still think of this haunting National Geographic cover or these LIFE Magazine photos that changed the world, while we'd struggle to recall an article written at the same time.
While I'm not going to Washington, D.C. any time soon, if I were, I'd make it a point to stop by the Newseum and check out the current exhibit — Our World at War: Photojournalism Beyond the Front Lines. The International Committee of the Red Cross sent five award-winning photojournalists to eight war-torn and ravaged countries to document how war and armed violence have affected people's lives. The exhibit of 40 photos will be on display until Sept. 7.
These incredible photojournalists are capturing images just as iconic as those taken by Eddie Adams during the Vietnam War. Read more about them and get a little taste of their work in this video.
Eleven-year-old Ozias waits at a temporary resting place in the conflict-torn Democratic Republic of the Congo, wondering whether his parents are still alive. (Ron Haviv/ICRC/VII)