Eat Hot Wings; Help The Red Cross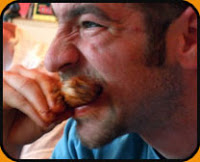 Wildfires. House fires. Sadly, the American Red Cross is all about fires.
Which is why it makes perfect sense that we're partnering with Fire on the Mountain Buffalo Wings for their El Jefe Hot Wing Eating Contest!
If you can handle the heat, you'll want to head over to the FOTM location on E. Burnside to see just how many of the extra super spicy El Hefe wings you'll be able to get down. A look at their website shows that the all-time champ has managed 40 wings….can you do better?
Keep in mind that this events helps out a good cause — our work of saving and rebuilding lives after fires (and a variety of other disasters) here in Oregon. Registration is just $10 and people can pledge their support for your efforts at just $5 a wing. Entry forms are available at both FOTM locations, including the one just down the street from our building on N. Interstate.
Eat hot wings; help the Red Cross. What could be more fun?
Saturday, August 29 – 3 p.m.
Fire on the Mountain Buffalo Wings
1708 E. Burnside Ave.