Why I Give: Heathman Hotel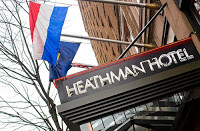 Donors don't always have to give money.
Sometimes they give things that are incredibly useful in other ways…things like space.
Not outer space (though that would be pretty cool!), but physical space. Conference room space. Meeting space. Event space.
And that's part of what the generous folks at the Heathman Hotel gifted to the American Red Cross. Space for our division meeting — where our leaders can come together to discuss the mission, vision and direction of the organization; to plan for the future of the Red Cross.
But that's not all — the Heathman is also helping with rooms for out-of-town guests, food and event support. Wow!
As General Manager Chris Erickson says, "To us, this partnership is not about business; it is about the people you help."
So thank you, Heathman Hotel, for your $5,000 in-kind donation…and for supporting the future of the American Red Cross!
Photo by Thomas Hawk