Why I Help: Phil Gonzales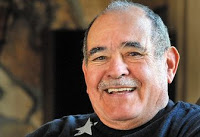 Phil Gonzales is tough.
After 50 years working for car dealerships in southern Oregon, the first thing he did in his "retirement" was try out for Survivor. Though he didn't make the cut, his next move was to fight wildfires.
Following all that excitement, what could he possibly do next that would be challenging enough to keep him sharp for years to come?
Volunteering for the Red Cross, of course.
Now he's been to Texas, New York, New Orleans and Ohio, touching hearts and helping people along the way. He's even made an appearance on Good Morning America. All this at the ripe young age of 74.
Read more about Phil…

Photo courtesy of the Medford Mail Tribune.