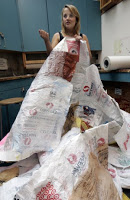 Plastic bags.
Some places won't let you have 'em. Some places let you make a donation if you skip 'em. Some places even enter you into drawings for free grocery gift cards.
But even on Earth Day in one of the greenest cities on the planet (that's us!), plastic bags still get caught in trees, hurt wildlife and don't decompose.
That's why I love this creative use of plastic bags, brainstormed by an Oregon girl who wanted to do something to make a difference in Haiti.
Ruby Sprengle was inspired while listening to an NPR story about how the American Red Cross has given out hundreds of thousands of tarps (373,000+!) to homeless Haitians in advance of the rainy season. Having previously made a portable shelter out of plastic bags for an Urban Survival Workshop, Sprengle thought she could apply the same concept to tarp-making.
According to the article, it takes about 400 plastic bags to make a tarp. Cut off the top and bottom of three bags and fuse them together by ironing them between two sheets of tracing paper. Once you have lots of pieces, you slightly overlap them and meld them together with more ironing.
Sprengle will hold more tarp-making workshops in the coming weeks at the School and Community Reuse Action Project (SCRAP) here in NE Portland. Her goal is to make 100 and ship them off to Haiti.
Good luck, Ruby — we're inspired by your idea to recycle for relief!
Photo: Kevin Clark / The Register-Guard