The Sleekest Way To Study Tsunamis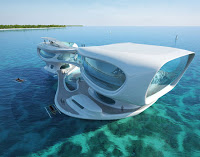 What do you think the building in this photo is? A futuristic resort hotel? A billionaire's crazy cool house boat? An oceanic theme park?
Nope! It's actually
a tsunami research facility
– or rather, it
will be
a tsunami research facility.
This is the proposed design for a building in Bali intended to further research and better preparedness for tsunamis like the one that struck Indonesia, Sri Lanka, India and Thailand in 2004. We're kind of geeking out about this in the office since it represents a combination of so many things we adore: gorgeous design, science, and helping to save lives.
Even though it's not yet built, we're already putting this on our daydream list of
Super-Sleek Life-Saving Vacation Destinations
. (A list that also includes the
space-age blood bank in Japan
.) Want to come with us?
Related:
– If you live or vacation on the coast, make sure you read up on
tsunami safety
.