Given Freely– No Recompense
So, I was minding my own business when a foxy question came to mind…
What one word describes the inside of a Red Cross Emergency Warming Center (EWC)?
Racking my brain and allowing inspiration to move within me, the one word that I couldn't shake was Gifted. And here's why: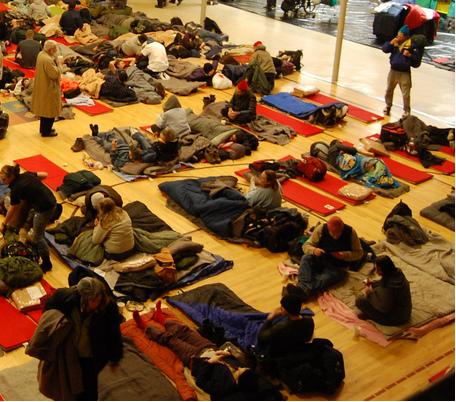 The volunteers: In less than an hour, the gymnasium floor was turned into a land of comfort and safety simply by using red mats, kindness, and dog crates. The gift of ingenuity. Problems that could have arisen were quickly extinguished as OTC volunteers used compassionate voices and created clever solutions to bring comfort. The gift of listening to the needs of others. I noticed that the line between those serving and those being served disintegrated simply because the volunteers comfortably and sincerely engaged with a population that tends to be overlooked, discriminated against, or ignored. The gift of acceptance.
The clients: A former Zen Monk reminded me of humility. He told me of enchanted places where men stare at the floors for months simply to connect to the heart of humanity for just one second. His goal– to lose his ego so that he may be a pillar of hope for others in need. The gift of sacrifice. Another client could draw circles with perfect mathematical precision freehandedly. It takes him days of dedicated drawing to finish a single page of immaculate circles and geometric shapes. The gift of patience. I saw the love of a couple in their seventies who have been with each other through incredible financial fluctuations– one day they were swathed in fluffy comforters, the next day they were holding hands, asleep on two red mats pushed closely together, and sharing a single blanket. The gift of companionship and commitment.
The church: By gifting OTC the space to open the EWC, we were able to help prevent serious illness and death to 163 individuals. The gift of generosity.
The gratitude that I feel, and continue to feel, because I have had the opportunity to volunteer at a Red Cross EWC is a gift to my heart that cannot be forgotten
What is your one word that describes an Emergency Warming Center?