Red, White and YOU Blood Drives – July 4th!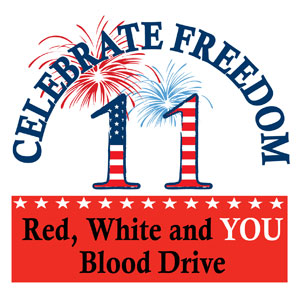 The Red Cross will host its annual Celebrate Freedom blood drives on Monday, July 4, 2011. The Celebrate Freedom events help give an important boost to vital blood collections during the summer. Drives will be held in Portland, Vancouver and Salem (see below for details).
This year the Celebrate Freedom 2011 blood drives will include a "Red, White, and You" t-shirt, a free apple pie from Shari's Restaurants, and a "buy one, get one" free coupon to a Portland Timbers reserve game for all presenting blood and platelet donors (while supply lasts).*
In Portland, the newly crowned Miss Oregon 2011 will also be on-hand to greet donors and hand out apple pies. This will be her first public appearance since her crowning on the evening of July 2, 2011.
For your convenience, drives will be held at multiple locations (all on Monday, July 4). Please call 1-800-RED CROSS to reserve your appointment time or click below to schedule online for the drive closest to you.
Portland Donor Center
8:00 am – 1:00 pm
3131 N. Vancouver Ave. Portland, OR
Clark County Donor Center
8:00 am to 1:00 pm
109 NE 82nd Ave. Vancouver, WA
Pearson Air Museum (Vancouver)
1:00 pm to 6:00 pm
1115 East 5th Street Vancouver, WA
Salem Donor Center
8:00 am to 2:00 pm
475 Cottage Street NE, Suite 110 Salem, OR
The Celebrate Freedom events are some of the most popular blood drives of the year and appointments are strongly advised. The Red Cross wants this event to be enjoyable for everyone and to provide you with excellent service.
*Coupons can be redeemed for one of these game options: August 21st – 2 pm; September 2nd – 2 pm; or September 27th – 11 am. The "buy one, get one" free coupon must be used in coordination with the purchase of one $10 game ticket. No substitution of prizes will be permitted.