Volunteer Profile: Ken and Kathy McCoy – a Red Cross couple to count on
Red Cross volunteer profiles are written by communications
volunteer Patrick Wilson and provide a behind-the-scenes look at some of
the people who help to deliver our mission.
In 2002, Ken McCoy was a retired fire captain and his
wife Kathy, had ended her work as a teacher
's aide. Being community minded, they wanted to find a
way to continue to be good public
servants,
so the American Red Cross seemed a logical choice. For Ken it was a natural
extension of his work as a fireman. He had seen the work Red Cross volunteers
did and wanted to assist with the support disaster victims received following
home fires. Kathy had heard her husband tell numerous
stories
about fires and fire victims and was also interested in volunteering. This was
good news for the community of Eugene, Oregon, where the Red Cross needed Disaster
Assistance Team (DAT) volunteers. The McCoy's started as health services instructors
but soon moved on to join the DAT. Once there, they took on leadership of the
teams and began actively training team members. Their goal was to ensure the
community had four fully-viable DATs to provide the necessary local disaster
assistance support.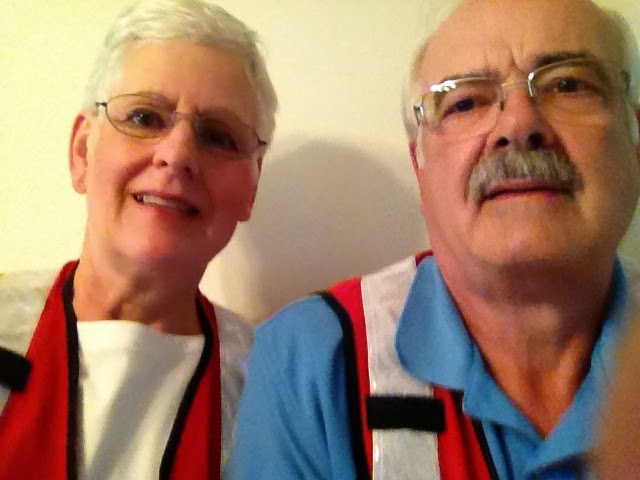 Eugene, like most communities, has more home fires during
the winter months when families, particularly those with more limited means,
are struggling to keep their homes warm. Sometimes they take short cuts or use
dangerous alternatives that result in accidental fires.
And, unfortunately, they are often
renters without insurance coverage which results in the most expensive fires.
In a typical week Eugene has one fire, but some weeks there can be as many as
three. Most fires are single-family homes but some apartment and dormitory
fires also occur. In the case of the latter, multiple DATs can be called out
and sometimes, a shelter is created if the number of victims is large.
"Sometimes when we announced plans for
a shelter, we discover shortly thereafter that everybody had secured lodging
with friends or family instead. Sometimes this is a more comfortable option for
people than staying in a shelter. Still, the Red Cross is prepared to establish
a shelter for those who do not have other resources."
Red Cross volunteers must ensure their
limited funds are managed effectively. This includes making certain they have a
reliable count of the family members living in homes that suffer extensive
damage. This requires checking with the fire department, neighbors and
sometimes the Red Cross regional duty officer for an accurate accounting. Fire
scenes can be hectic and confusing, particularly for large families. Fire
victims have been known to forget to account for victims living in the home who
were away temporarily. The oversight sometimes gets pointed out by a neighbor.
Two years ago, Ken and Kathy were called upon to set up
shelters because of local flooding. (The couple always goes on calls together.)
They created shelters on two occasions but only one was needed. For the
McCoy's the important thing is to be
available to help people in their time of need. Ken emphasizes it is important
to be compassionate and attentive to everyone who has been affected by disaster.
Kathy chimed in, "We lived in Alaska for many years, so we know what it is like
to be out in cold, windy rain on a harsh night. Regardless of the conditions,
it is important to listen, really listen to victims and respond to them
authentically and with caring."