Roseburg Man Saves Woman's Life Thanks to Red Cross CPR Training
On Saturday morning, June 18, Tracy Belanger did what he does most every morning. He got up, got ready for work at the Roseburg Fred Meyer where he is an Operations Assistant Manager.
At the customer service desk, Tracy was holding close to $4,000 cash in his hand that he was going to put in the safe when he heard the sounds of a woman in distress. Dropping everything including the cash, Tracy quickly made his way over to the choking woman. "When I got to her, there was a responder already there but he was just giving the choking woman back pats," relates Tracy. "I knelt down in front of the woman's face and said, 'Hi my name is Tracy and I am going to help you'." After three purposeful back thrusts, the woman coughed up what was causing her distress – peanut butter.
Nancy, a 74-year-old diabetic, felt her blood sugar was dropping while shopping and went to have a snack after checking out.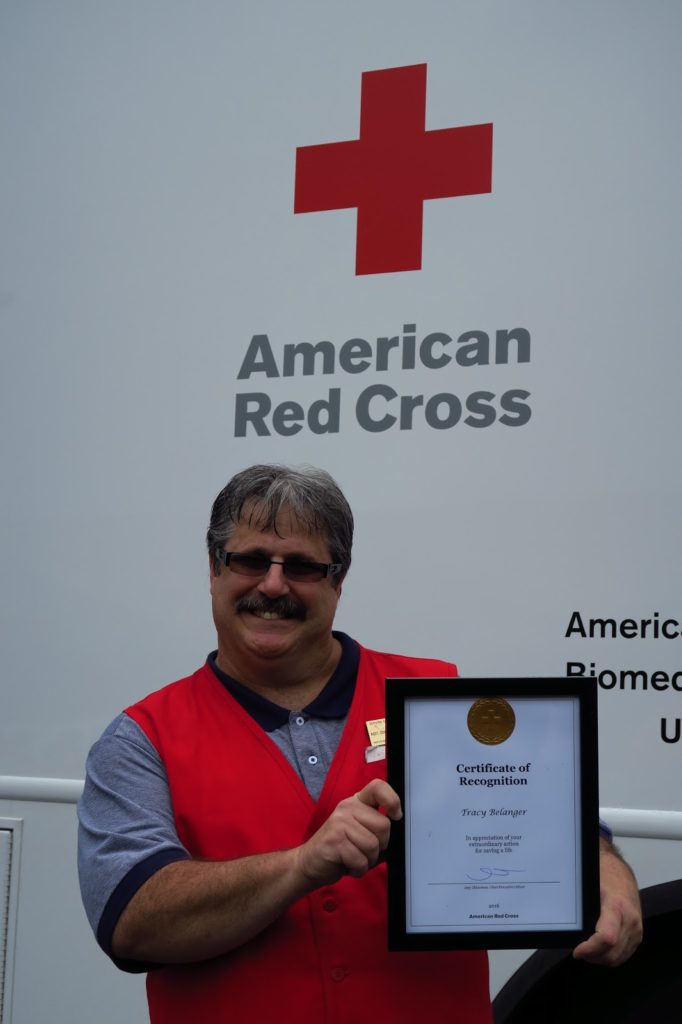 Tracy just recertified his Red Cross CPR training, something he's maintained for over the past 10 years. "When the time came, I was just ready. I didn't hesitate."
The entire life-saving action felt like it lasted a lifetime in Tracy's eyes; in reality it was all of 30 seconds. "I was 100 percent focused on her. When I looked up (after the choking incident was over) there were 50 people surrounding us and they started clapping!"
The town of Roseburg, Oregon could not be more proud of their very own Tracy Belanger and residents are treating him as a hero. The Roseburg Fire Department honored Tracy with their Lifesaver Award. The Red Cross also presented Tracy with a certificate of recognition for saving a life. Even weeks after the incident, Tracy continued to be the talk of the town. "Every restaurant I went to I felt famous," said Tracy.
In Tracy's point of view: "With the UCC shooting that occurred last year, it's great to have something good happen." Tracy considers this a milestone in his life and is extremely thankful for his live-saving CPR training. "It's so awesome. Thank God for the training that Fred Meyer offers."
Are you first aid and CPR certified? Sign up for a class today. Don't stop there! Download the FREE Red Cross First Aid app to have lifesaving information at your fingertips.