Making a Difference Starts with Volunteering Your Time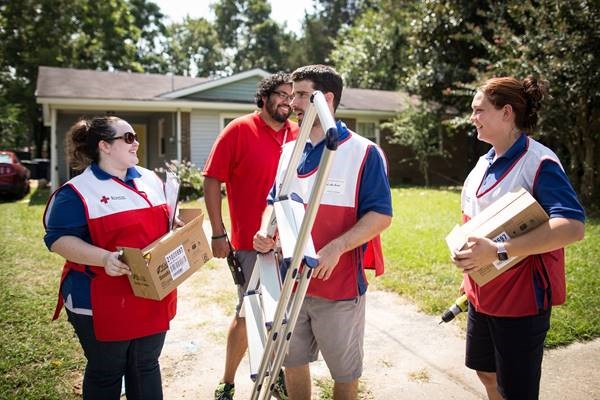 Do
you want to help someone on what could be the hardest day of their life? Do you
want to share compelling stories about the work the Red Cross does every day?
Do you want to send resources to someone who has just lost everything?
You can with the Red Cross. More than 90% of the Red Cross workforce is
volunteer based and we need you! Are you available to help us in the
following, high-need areas?
Disaster Action Team Member
:
If you like stepping into action and
helping others in your community, consider joining our Disaster Action Team
.
Disaster Action Team members respond to local disasters (mainly
house fires) and connect with the individuals to begin a casework process,
guiding them on their road to recovery. Volunteers must have
access to their own transportation and be willing to sign up to be on-call for
4, 6-hour shifts a month.
The Dispatcher
: Regional Duty Officer (RDO) / Dispatcher is the on-call
operations lead for the Cascades Region and ensures a timely and appropriate
response to emergencies that occur with the region. The RDO receives the
initial request for assistance from first response agencies and individuals
that have experienced a disaster; coordinates the mobilization and deployment
of initial responders to the disaster scene; and provides ongoing technical
assistance and deployment of additional support resources as
needed. Commitment: Volunteers in this role must sign up for
an average of 4 shifts per month (minimum shift duration is 4 hours) and commit
to staying in this role for 1 year. Initial training for
this position will be done at a Red Cross office; once training is completed,
this volunteer work may be done remotely, from any location.
Communications / Content
Creation Volunteer:
if you have great communications skills or if social media
have no secrets for you, this might be a perfect fit!
Communications
volunteers
assists with writing/reviewing press releases, brochures,
newsletters, blogs, social media posts and other written materials.
Volunteers must have exceptional written communication skills and be available
15 hours per month; schedule is flexible.
Disaster Public Affairs
Volunteer:
sends media alerts about Red Cross disaster responses throughout
the region. This is an on-call position that can be done from a Red Cross
office, from home or any remote location. Volunteers must be able to
accept at least 1 on-call evening or weekend shift per week and
have access to reliable internet, a computer and phone during their on-call
time.
The Transportation Specialist /
Driver
:
the Red Cross supplies blood to more than
60 hospitals in Oregon and Washington. We need great drivers to assist with the
transport of blood products throughout the region in a safe and timely manner.
This position requires a good driving record and a commitment of
driving one run per week.