A 60-Year Career of Service that Started with a Flood: Gary Geerhart's Story
Built in 1942 in just over 100 days, Vanport, Oregon, was meant to be a temporary housing project—a short-term answer to Portland's wartime housing shortage. At its height, Vanport housed 40,000 residents, making it the second largest city in Oregon at the time. But as America returned to peacetime, tens of thousands of people remained in the houses and apartments that dotted the 648-acre Vanport complex.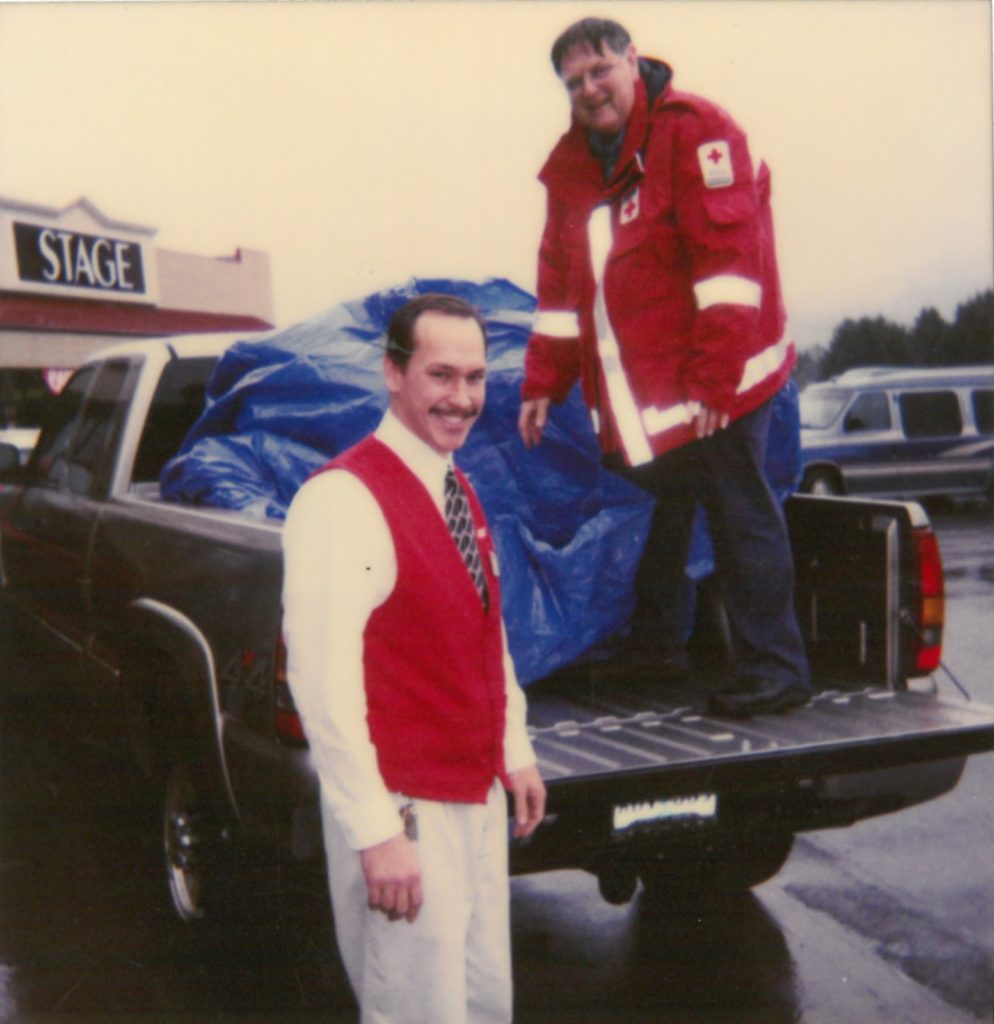 Gary Geerhart pictured in Red Cross jacket
On Memorial Day in 1948, the Columbia River, swirling fifteen feet above normal, punched a hole in a railroad embankment that served as a dike protecting Vanport. This rupture started a flood that would leave 18,000 people homeless. Long-time Red Cross volunteer Gary Geerhart, then 11, lived near Vanport in 1948.
"My friend and I were walking the railroad tracks on the way home from catfishing," Geerhart recalled. "We were throwing rocks at the insulators on the power poles. When the poles started falling over on themselves and water started rushing over the tracks, we thought we had caused it. I remember we ran hard and just got out of there."
They lived about three or four miles from the Columbia Slough.
"As it turned out, the power poles were falling because the floodwaters were b
reaching the railroad tracks on the dike,"
Geerhart
said. "Still, as punishment for throwing rocks at the insulators, my dad got in touch with the Red Cross and signed us up as volunteers to serve hot and cold drinks to the dike workers."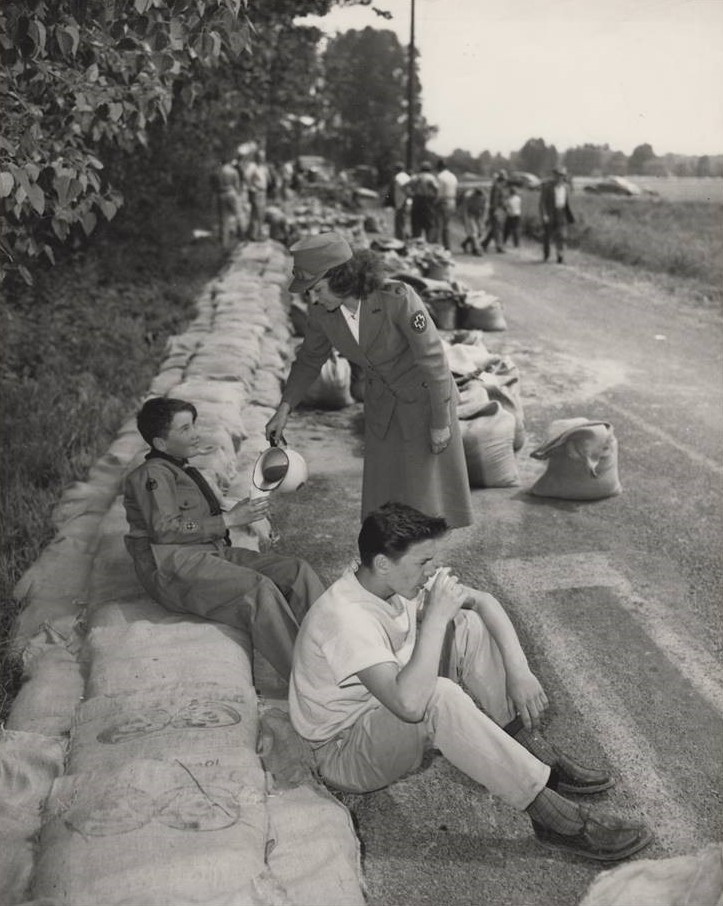 Red Cross worker serving beverages to Portland
Red Cross Youth Club members
The Red Cross responded to the devastating flood by opening shelters for people who had lost their homes, and they provided residents with food, water and medical services. Ultimately, hundreds of volunteers came to the aid of residents of Vanport in a response effort that lasted for weeks after the initial dike breach.
Memories of the devastation softened over time but Geerhart still says it was "something to see. All those big houses floating around down there as they came off their foundations."
Geerhart, who now resides in Monmouth, Oregon, would never forget the flood destruction he witnessed and he would never forget the Red Cross. He has remained an active volunteer throughout his adult life deploying with the Red Cross to disaster responses like earthquakes, hurricanes and flooding across the U.S. He served on the Board of Directors at the Yakima, Washington Red Cross Chapter when he lived there, and he once served as the executive director for the Lincoln County chapter of the Red Cross. His volunteer legacy can be found at the Yakima Valley Red Cross chapter's facility on South Second Street, a building that Geerhart helped raise the funds to build. "Having a blood donation center and facility to help people in the area was pretty important," recalled Geerhart.
*"I've slowed down and don't go out fishing anymore because there just got to be too many rules, but I have three grandkids now so I'm starting up again," Geerhart said. "I'll also keep coming in to the Red Cross office. First I get my chocolates from the receptionist, next I go on back for the cup of coffee to go with it and then I get to work."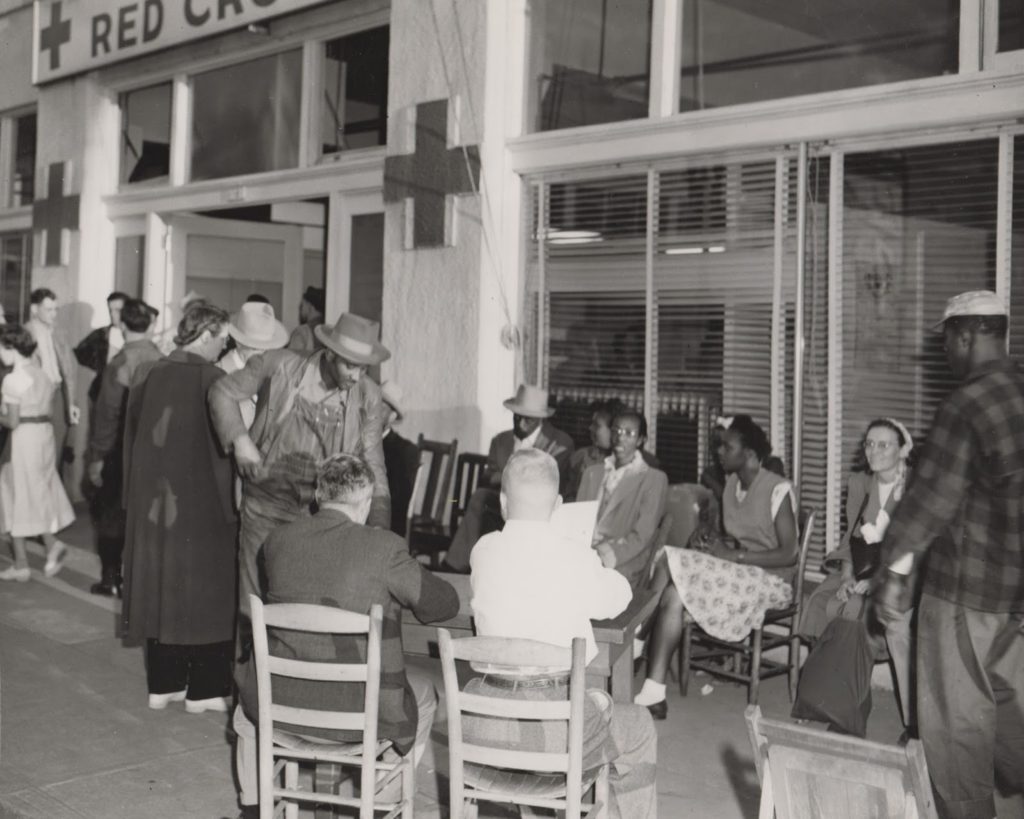 Evacuees registering at Red Cross shelter following flood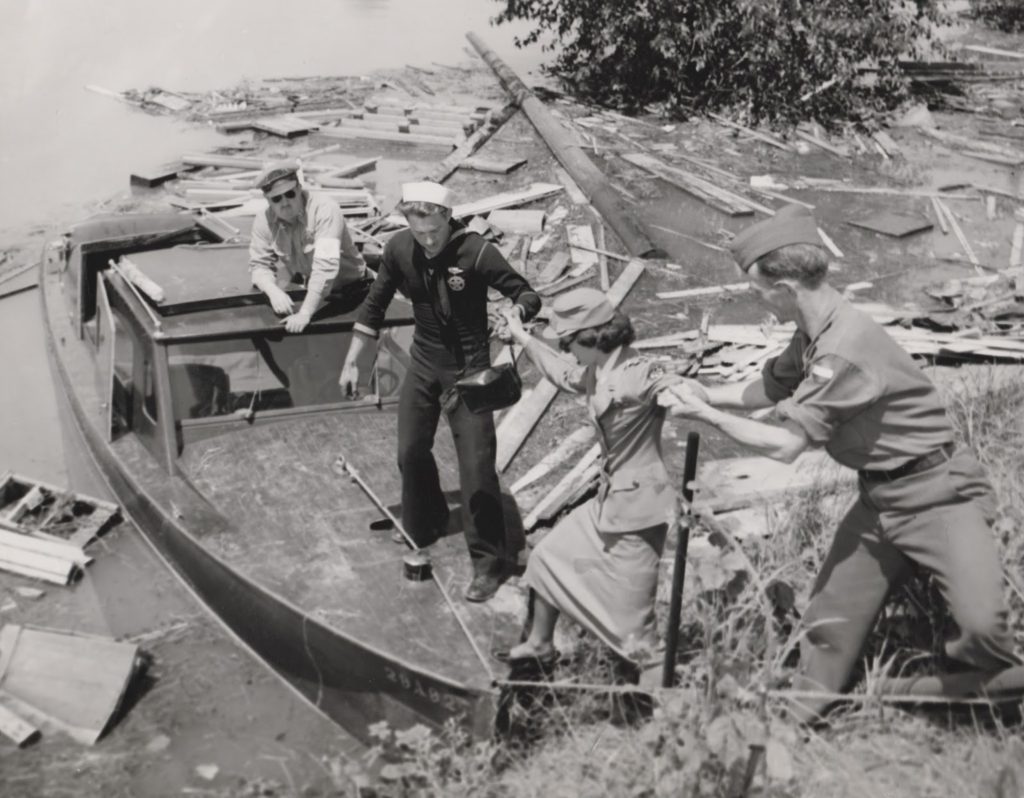 Red Cross worker being helped into boat by member of US Navy