Accommodating Pets and Their Human Companions at the Red Cross Eagle Creek Shelter
Evacuees of the Eagle Creek fire are expressing their
appreciation for the accommodations provided for them by the Red Cross. Many
emergency shelter residents were glad that their special needs
were met, as well as their ability to have their pets and service animals
accompany them.
One evacuee that took refuge in the Red Cross shelter is
Jose "Joe" Bailey, Sr. Bailey is a disabled veteran who depends upon his two
service dogs to assist him in his daily life. So it was important for them to
be able stay with him. He said that burning embers were falling around him as
he was hooking up his trailer to evacuate. Still his concern was for his dogs.
"I have two service dogs, one of which is in training," he
said. "I'm a disabled veteran and my animals are everything." His dogs, Bonnie
Blue Bell and Remington, were able to remain with him in the shelter. "I'm so
grateful that I can have my service dogs here with me," he said. "If it wasn't
for these two, I don't know where I'd be now."
Another evacuee, Lauren, appreciated the amenities provided
by the Red Cross at the shelter. "The shelter has been great – offering
toiletries and food. I really like having showers here, and also everyone is
very friendly and quick with a smile." she said. "When I drove up, people waved to me. And it was really reassuring to have law
enforcement nearby."
Lauren is thankful to have counselors available at the
shelter to talk to. "I've been given emotional support. The counselors come around and they are
wonderful," she said. I was previously in a house fire so this has really been
a trigger for me. It has been difficult."
Lauren found comfort among other evacuees at the shelter.
"It's important to have emotional support and to share stories with others,"
she said. "Here I have found people I can commiserate with because we are all
going through the same things, and we are all from small towns neighboring each
other. We can share stories and have a few laughs."
Most of all, Lauren is grateful that her two cats were able
to stay with her in the shelter. "My cats, Le Chat and Pishi, really are
comfortable here and it's great to see the Red Cross partner with the Southwest
Washington Humane Society." she said. "I get up every morning and go to work,
so it's really a blessing to be able to have my animals here with me. They are
my link to everything – they are family."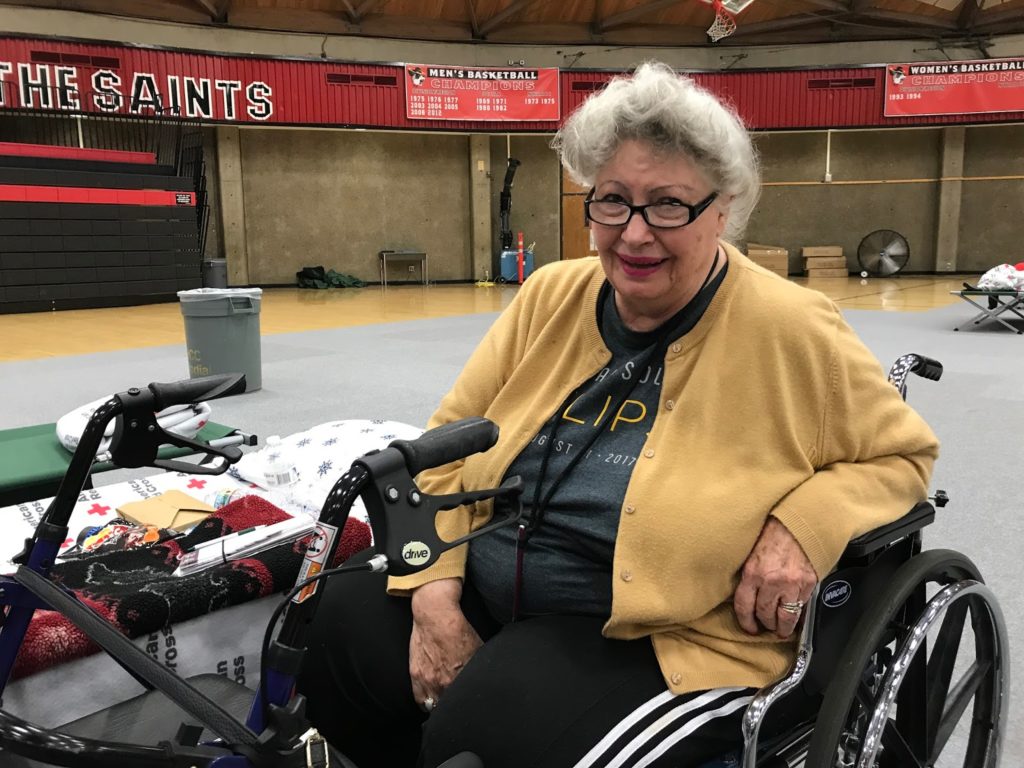 Sally King
Evacuee Sally King said her mother used to be a nurse for
the Red Cross. She came to the shelter with her three dogs and her friend
Tracy. "I have health issues, so the Red Cross has been completely
accommodating," she said. "They gave me
a special bed, and they gave me a comfortable wheelchair." She said nurses come
by frequently to check her blood pressure.
"I am really impressed with all the things available, including hygiene products
and food," she said. "We have even had food from a number of wonderful
restaurants."
King appreciates Red Cross donors who have given to help
people in crisis situations such as the Eagle Creek fire. "I know a lot of
people have donated money to help the fire victims. I believe it is money worth spending," she
said. "Everyone here has been very
caring, wonderful and loving. I can't
say enough good things about the Red Cross and my experience at the shelter."