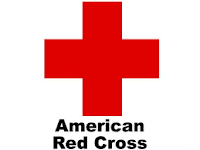 As we celebrate 100 years of
service to the region and launch headlong into the next 100 years, everyone
here at the Red Cross is grateful for the opportunities to serve and mindful of
the responsibilities those opportunities bring.
We help people cope with chaos,
even as that chaos still reigns all around. We bring reassurance and calm when
it's most needed and give people the stability and resources needed to begin
putting their lives back together in the wake of an emergency.
I wish we all lived in a world
where many of the services provided by the Red Cross were unnecessary. For as
long as we live in a world where they are necessary, I am honored and grateful
to be a part of an organization that does so much good and brings so much hope
to so many.
Nationally, the Red Cross
responds to about 70,000 disasters and local emergencies each year. That's one
every 8 minutes! Twenty-four hours a day, 365 days a year. While that's noble work and
something to be proud of, the Red Cross is more than just disaster relief.
The Red Cross also supports the
men and women (and sometimes canines) of America's armed forces. We provide
communication with family members back home, serve in military hospitals and
more.
In the community, the Red Cross
is honored to be a safe and trusted steward of our nation's blood supply. We
teach first aid, CPR, emergency preparedness… and even give swimming lessons.
More recently we have broadened
our focus beyond emergency response to put a greater emphasis on emergency
preparedness: from installing smoke detectors to teaching people how to put
together their own disaster readiness kits.
The amount of good that we do
and the extent of our reach is directly proportional to the number and the
dedication of our volunteers. Over the course of 2017, the Red Cross Cascades
Region has had the benefit of 2,477 amazing volunteers putting in an astounding
160,414 hours of service.
It is my privilege to serve
alongside them.
Sincerely,
Candace Horter
Chief Executive Officer
American Red Cross
Cascades Region
Here are more highlights of our year in 2017:
Extremely Active Wildfire Season
While a series of very
destructive super hurricanes dominates the news nationally, the Cascades Region
has been grappling with one of its worst fire seasons on record.
With three major and several
minor fires all burning simultaneously, the Red Cross has set up a series of
shelters across the region to feed, house and provide other forms of aid to
those displaced by the fires.
At the site of the Eagle Creek
fire, Red Cross volunteers are staffing two shelters that continue to serve 170
evacuees and their pets. The Eagle Creek fire has been so large and active that
the shelters have had to be moved multiple times in the interest of safety.
A shelter established for those
displaced by the Chetco Bar fire has provided well over 250 overnight stays and
served up more than 4,000 meals. The shelter for the Brookings
fire has also had to be relocated due to how large and active that fire has
been.
Despite all this, the Red Cross
has still managed to maintain all or most of its other services throughout the
region and even provide a handful of volunteers for hurricane relief efforts at
the national level.
Saved by Red Cross
Preparedness
Jimi Hardin awoke to find his
home nearly engulfed on three sides by fire. Thanks to a smoke alarm installed
by the Red Cross a year earlier, and the fire evacuation planning training that
came with it, Jimi and three others who were in the house at the time all made it
out safely.
Even as the embers were still
smoldering, the Red Cross was already on the scene to help the family pick up
the pieces. Hardin says if it hadn't
been for the Red Cross helping them put together a fire evacuation plan, they
might have all died in the confusion of the blaze. He's now an avid fan of Red
Cross services for life.
Red Cross Emergency Preparedness
Although perhaps best known for responding after a disaster has struck, the Red Cross would much rather help people prepare and become better equipped to survive and deal with emergencies before they happen. Here are just a few examples:
Earthquake Preparedness
In 1700 the region had a
monster-sized earthquake and most seismologists believe we're long overdue for another.
Prepare Out Loud is a Red Cross initiative meant to bring awareness of the threat and teach preparedness. We have expanded our reach,
thanks to the sponsorship of our generous media partners who help spread the word
via radio and TV.
Free Smoke Alarms
By far, the most common type of
emergency the Red Cross responds to is home fires. So we have been going into
communities throughout the region and installing free smoke detectors in homes. This also comes with free
literature and training to help families survive a fire. We teach emergency
planning, evacuation and other vital skills.
First Aid and CPR Training
Basic lifesaving training such
as CPR and first aid has been a mainstay of Red Cross services for almost the
entire history of the organization. Also covered under this
umbrella are topics such as workplace safety and swimming lessons.
Blood Services
The Red Cross is one of our nation's premier blood service organizations. We collect, store, and distribute blood throughout the region and even share or exchange blood supplies with other regions as needs dictate.
During 2017, the Cascades Region:
Responded to

1,049

disasters
and emergencies throughout Oregon and southwest Washington.
Provided

$533,662

in
financial assistance to families affected by those disasters and emergencies.
Collected

178,697

pints
of blood.
Installed

7,123


smoke alarms.
Provided support services to

965

armed forces members and their families.
Taught disaster preparedness courses to

11,542


members in our communities and reached another

7,289,366

online and through the media.
Our

2,477

volunteers put in a combined

160,414


hours of service to the communities in which we serve.
RED CROSS TIMELINE 1917 TO 2017 FOR THE CASCADES REGION
1917 First of four area Red Cross chapters formed to aid World War I servicemen and to offer swim lessons and other services. These would later be combined to form the Red Cross Cascades Region.
1918 Red Cross volunteers respond to an influenza epidemic by making masks to contain the spread of germs.
1932 Red Cross takes over management of the Indigent Soldiers and Sailors Relief program for Multnomah County. Aid is given to 1,268 soldiers and their families from the Civil War, Spanish-American War, Philippine Insurrection, and World War I.
1936 Ten people killed and 484 buildings destroyed by fire in Bandon, Oregon. Red Cross sets up tent city to provide meals and shelter.
1942 Red Cross volunteers provide meals and other basic comforts to World War II servicemen.
1948 Devastating flood in Vanport, Oregon leaves 18,000 people homeless. Red Cross serves 13,000 meals per day. Volunteers also provide shelter and distribute relief supplies.
1949 Red Cross Pacific Northwest Blood Services Region is established. This expands the Red Cross mission by providing blood to servicemen and civilians alike.
1951 Red Cross forms support groups for families and soldiers serving in the Korean War.
1959 Fire and explosion destroy eight city blocks in Roseburg, Oregon. Red Cross provides first aid and emergency relief.
1962 Severe windstorm on Columbus Day kills 27 people and injures more than 100. Red Cross provides financial assistance, emergency transportation and other aid. it also provides two emergency generators to the Physicians and Surgeons Hospital after the hospital loses power.
1969 Red Cross volunteers record audio messages from families of servicemen in Vietnam and then coordinate delivering those messages to the soldiers.
1980 Mount St. Helens erupts, killing 57 people and forcing thousands to evacuate. Red Cross provides shelter, distributes face masks, and offers other aid.
1989 Worst floods in 20 years hit the Oregon coast in January. Red Cross provides shelter for 489 people and serves 3,729 meals.
1996 Willamette River flood displaces 6,000 people. Red Cross opens 50 shelters and provides over 100,000 meals and other aid.
2001 Red Cross Cascades Region sends 70 volunteers to aid in 9/11 relief efforts.
2005 Red Cross Cascades Region sends 300+ volunteers to aid in Hurricane Katrina relief efforts.
2012 Red Cross Cascades Region sends 120 volunteers to aid in Hurricane Sandy relief efforts.
2015 Red Cross responds to a series of emergencies including regional wildfires that displace 1,100 residents, a school shooting in Umpqua, Oregon, and severe winter storms.
2016 Red Cross Cascades Region sends 50 volunteers to aid those affected by historic flooding in Louisiana. A few months later, 40 volunteers are sent to aid in Hurricane Matthew relief efforts.
2017 Red Cross celebrates 100 years of service to northwest Oregon and southwest Washington.