Meet Our Local Service Associate, Linda Morris
"Disasters bring people together," said Linda Morris, one of the many Red Cross responders deployed to the volcanic eruptions in Hawaii. "It hit me pretty hard when I saw the devastation in Puerto Rico after Hurricanes Irma and Maria.  I knew I had to help. That's what got me started in the Red Cross."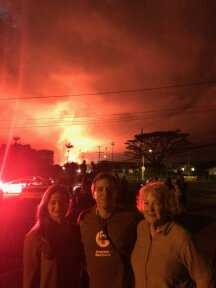 Despite being a Service Associate for only a year, Morris has already been deployed to three major disasters in the U.S.—the wildfires in California, the Ohio River flooding in Kentucky and most recently, the lava flows in Kea'au, Hawaii.  
At the Kea'au Armory shelter, Morris was joined by approximately 30 to 40 other Red Crossers. Her duties involved what she calls 'housekeeping' at the shelter: greeting visitors and people bringing in donations, overseeing other Red Crossers with their tasks, patrolling the facility each day with security walks, and providing timely reports of inventory.
Donations of clothes and other essentials never ceased, much to everyone's gratitude and relief. The Salvation Army was on site too, serving three meals a day with the utmost courtesy to all.  And one day the shelter was visited by the American Legion. Everyone was surprised and touched when these members presented residents with their generous donation to help with the relief effort.    
Morris tries to bring hope and joy wherever she assists. She's also known for adding a bit of silliness to lighten the mood, especially for children. She plays games and sings songs with them (the Hokey Pokey is a popular favorite). And Morris wears a harmonica around her neck, ready to break into song at a moment's notice.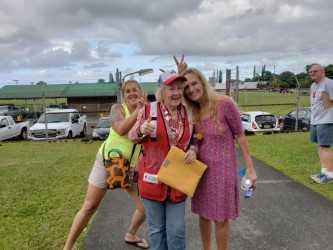 In Hawaii, Morris also distracted the children from their alarming situation by telling corny jokes: How many seconds in a year? Twelve: January 2nd, February 2nd, March 2nd …
Morris loves meeting people and always looks for ways to build them up and lighten their load. In addition to her work with the Red Cross, Morris is one of the University of Oregon's Daisy Ducks. This group of intrepid bakers makes sweet treats for the teams and their coaches, sends birthday cards to the athletes and provides potluck dinners. Morris has also been a caregiver in hospitals and nursing homes. It's clear she has a big heart for people, but sometimes this kindness happens in reverse.  
"In Hawaii, there was a married couple who came in with their five-year-old son to visit the shelter," said Morris. "Before leaving, the mother leaned down and whispered in her son's ear. He smiled and then reached in his pocket and pulled out a beautiful, gold cat's-eye marble and gave it to me and said, 'Thank you.' His name is Cadence as in 'soldiers marching in cadence.' It was his favorite marble. It's on my window sill now and I see it every day. I'll always keep that little boy in my heart."
While the Red Cross team gave aid to this community that had suffered so much loss, they were constantly amazed at the resilient spirit of the Hawaiian people. In fact, Morris didn't want to leave. And residents at the shelter didn't want her to leave either.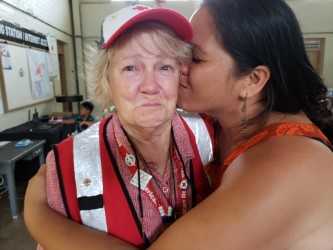 Sheyenne, a mother living in the shelter with her five children, did a hula dance and sang the Hawaiian 'Thank You Song' known as 'Oli Mahalo' to Morris and other Red Crossers.   The Hawaiian people have made a lasting impact on Morris.    
"The aloha spirit is still alive in people there, even though they
lost everything," said Morris. "I have so many heartwarming stories and experiences I will cherish forever from my deployment to Hawaii."