Volunteer Profile: Carol Gross, Lead Disaster Mental Health Worker
In September 2005, Oregon native Carol Gross received an email from the American Counseling Association requesting mental health counselors to join the Red Cross in response to Hurricane Katrina. She didn't know it then, but responding to that initial request for help would launch a 13-year career of volunteering as a Red Cross Disaster Mental Health (DMH) responder.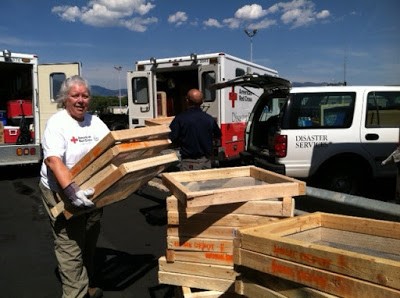 Shortly after replying to that email in September 2005, Carol received training in Portland before deploying to assist recovery efforts in Alabama. For the first two weeks of her deployment, Carol provided emotional support at a Service Center to people who had evacuated from the Gulf Coast. She visited individuals and families affected by Hurricane Katrina to coordinate mental health services and conduct damage assessment. 
After spending two weeks in the Chatom, Alabama, area, Carol was reassigned to the Montgomery, Alabama, Red Cross Service Headquarters, a former K-Mart warehouse, staffed by more than 200 volunteers. After helping survivors in such a hands on manner earlier in her deployment, Carol wasn't sure if her role at Headquarters would have the same impact. 
However, soon after arriving, Carol found the volunteers – some of whom were still there after first arriving when the storm hit six weeks earlier – were both physically and emotionally drained; they needed her skills as much as the people of Alabama did. From that point forward, she was hooked.   
Since her first deployment in 2005, Carol has been on more than 40 national deployments and countless local and regional deployments. She's responded to  hurricanes, floods, tornadoes, earthquakes, wildfires and even human-caused disasters, often in places she never would have had the opportunity to travel to on her own. 
"Knowing that my skills could offer relief, help and resources to people who might be otherwise underserved, was an incredible feeling," said Carol. "Volunteering with the Red Cross gives me the opportunity to serve my community and to appreciate how fortunate I am in this stage of life."  Carol has met inspiring people on nearly every deployment she's been on. One such person, a Hurricane Katrina survivor she met while working in a small community in rural Alabama, still resonates with her. 
As she talked with him, he took a photograph from his pocket and told her the clothes on his back and the photo were all he had left in the world. He had lost his best friend in the rushing floodwaters, had lost his home and had nowhere to go –but he still had hope.  "The strength and resiliency of the human spirit never ceases to humble and inspire me," said Carol. 
Although providing direct service to communities affected by disasters remains her favorite volunteer activity, Carol is now a Lead DMH responder, primarily working to recruit, train and mentor new DMH volunteers. Most recently, for the national Red Cross response to Hurricane Florence, Carol deployed virtually. Although Carol was not physically at the site of the disaster, she was able to provide support to new DMH responders who were on the ground providing services to people affected by the storm. 
---
Wherever and however Carol is deployed, she knows the hours will be long and the working conditions challenging. Carol has learned that in order to be able to serve communities and volunteers effectively, she must also take care of herself. She offers these tips: 
Stay hydrated and be sure to eat regularly
Know your limitations – take breaks when you need to
Stay connected with family, friends and colleagues 
Have your own emergency supplies kit 
---
Carol's commitment to the people she serves as a DMH responder exemplifies the American Red Cross mission to prevent and alleviate human suffering. She is one of more than 3,000 active volunteers in the Cascades Region who assure that when disaster strikes, the Red Cross will be there, offering shelter, food and a helping hand to those in need.  "It takes a team to make everything come together in the middle of a disaster," said Carol. "That's what makes the American Red Cross so great!"
Click here, to learn how you can become a volunteer.