With 50 Years of Volunteer Service with the Red Cross, Ed Epley Shows No Signs of Slowing Down
Story by Julia Green / Red Cross Cascades Region
Ed Epley's voice was warm and welcoming on the phone.
"You want to interview me?" he asked. "Well, what do you want to know?"
A resident of Corvallis, Oregon, Ed has been involved with the Red Cross for the majority of his life.
In fact, in June 2020 he was awarded his pin celebrating his 50 years of volunteer service with the American Red Cross.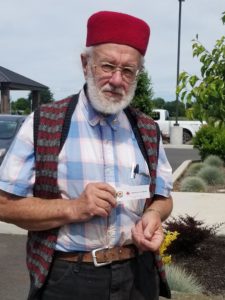 He is a passionate member of his community and does not seem to question giving his time and energy towards helping others. Ed describes Corvallis as a place where lots of people donate their time and blood.
"I always admire others who donate," he said.
Ed was born and raised in Portland, Oregon, where he lived until 1955. Ed's journey with the Red Cross began when he first donated blood as a college student at Oregon State College (now Oregon State University).
A family member had to sign an agreement allowing Ed to donate blood as he was under 18-years-old at the time.
In 1956, Ed was employed by Dell telephone while living in The Dalles. While working for Dell, he was a part of the team that recruited people to donate blood for a Red Cross blood drive.
Throughout this time in his life, Ed continued to donate blood as well.
In 1985, Ed joined the Merchant Marines. During this time, he was unable to donate blood because he was often out of the country.
During his time with the Merchant Marines, Ed first worked as a radio officer, and then a medical officer and certified EMT.
"This gave me some incentive to keep up with possible injuries at sea," Ed explained. "I took classes at the Red Cross after college." Around 1970, Ed used his skills learned as an EMT to teach Red Cross first aid classes for the Boy Scouts.
After retiring from the Merchant Marines in 1990, Ed set a goal to one day donate his age in gallons of blood. This meant donating blood multiple times a year, every year.
About 20 years ago, Ed donated his 75th gallon of blood at the Memorial Union at Oregon State University. When he was 83 years old, Ed donated his 83rd gallon of blood to the Red Cross.
More recently, Ed has spent time shuttling blood donations from Corvallis to Portland. Typically when he does this, he usually takes the time to donate some platelets himself in order to keep up with his goal of matching his age to his donation gallons.
In total, the driving, delivering, and donating process takes about 7-8 hours. However, Ed does not seem to mind spending his day doing this. He typically enjoys the drive, and often calls hospital services in Portland to offer to drive any processed blood back south with him.
"Donating blood is one of the very few volunteer activities in which you can actually give part of yourself," Ed reflected. "It's not replaceable. It's not possible to manufacture. I never needed any of it. There's always the possibility that I or someone I may know will need it."
Ed encourages others to donate blood to the Red Cross if they can. "I used to shudder and tense up when I thought about getting a needle stuck in my arm," he said. "This is not that bad. I don't even notice it anymore!"
According to Ed, "You get used to it. But you don't get used to the dentist!"
Today, Ed is still very involved in the community of Corvallis. He is a part of "Corvallis Alternatives to War," a group that has held peace vigils in front of the Benton County Courthouse every day since 2002. When Ed is able to, he joins the group of people holding signs and flags to show his support.
"You'll have to come by next time you're in Corvallis," he encouraged.
Ed's stories reflect his dedication and passion for helping his community.
His two children have also reflected this same dedication to their own communities.
"That makes me the proudest to be a part of it," beamed Ed.