The Day the Rosebud River Ravaged Roscoe
Story by Harriet Vanderbilt/Red Cross Cascades Region
Roscoe, Montana lies in a picturesque valley in South Central Montana.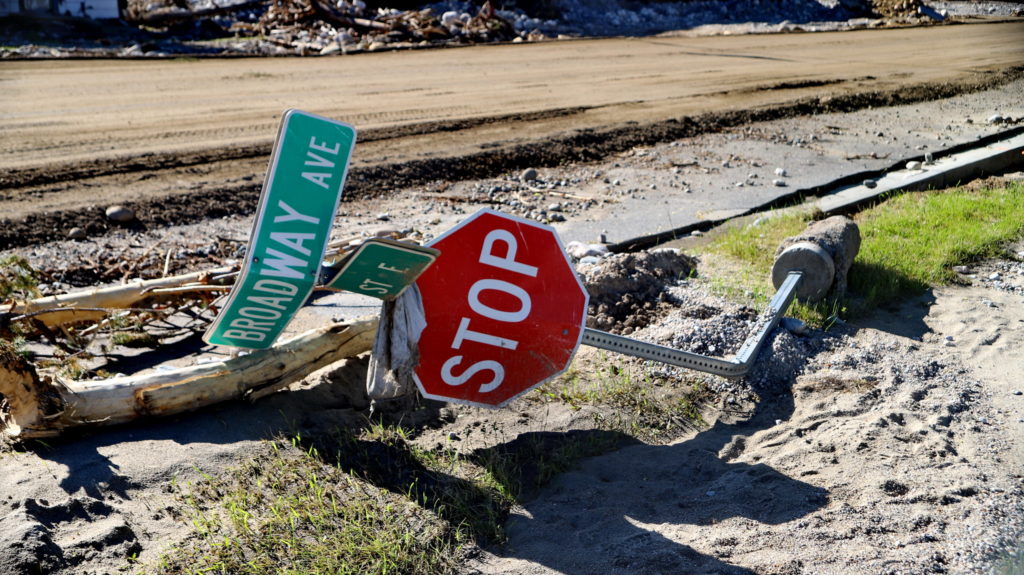 Life in the unincorporated community of 49 passes by unnoticed even by their neighbors in Red Lodge, 13 miles to the southeast. West Rosebud Creek rambles eloquently through the lush landscape. 
However, on June 12, 2022, Rosebud Creek unleashed a rampage of water that knocked the small community of Roscoe to its knees. 
The tiny town that lives life "off the grid" faced a force of nature that its residents had never experienced before. Nearly half of the townspeople lived on the other side of the river, cut off from emergency services and state highway 78. Their lifeline, the bridge, was gone.
When responder Michael Pritchard and his service dog, Oscar, arrived in Roscoe, this neighborhood of some 24 homes had already been isolated for nine days. He and fellow Disaster Action Team members from many different Red Cross regions set to work assessing damage. Thanks to the generosity of American Red Cross donors, the team gave residents immediate cash relief along with comfort kits and emergency supplies.
Roscoe, a census-designated town, reeled from the floodwaters. Responders were challenged to identify street addresses where homes were vacant or there was no neighbor present to identify the location.
"There were no plot maps," according to Pritchard.
"We were unable to ascertain if addresses had been posted, if the structure had washed away. Perhaps people just set up vacation or main residences on vacant land and failed to report there was a structure. It was also possible that it was not private land."
Pritchard worked alongside numerous volunteers. One of them was first-time responder Jacki W., from the Idaho/Montana region. Jackie and Mike met with victims, sometimes together and sometimes tag-teaming with other volunteers. A particular visit they made together stuck in Pritchard's mind.
Their knock on the front door of the home was answered by a spirited lady. The 86-old woman was ecstatic with relief at the sight of the Mike and Jacki. "It's been so long!  I thought we'd never be helped" she told Michael. "My husband missed his doctor's appointment and he's sick".  Her 88-year old husband was skin and bone.
Jackie talked to them about his medical condition. "I didn't want to go to the doctor's anyway," he said. His wife was frantic about his health, fearing he had cancer. Jackie gave the man a hug and asked, "do you love your wife?"  He replied "sure, I do." Jackie encouraged him by saying "then you'll go to the doctor!"
He agreed.
As Mike documented the damage, he learned that the man had lived in this house his entire life. Together, the couple had lived in the home all their married life. The sturdy structure had been built by his grandparents too long ago to calculate.
The pristine beauty of the Rosebud Creek valley will be restored with time. The citizens of Roscoe will eventually return to a life of simplicity and serenity in this valley. But thanks to Red Cross volunteers, families across the region were able to get help, hope and supplies where they were needed most.
Red Cross Disaster Response volunteers respond to an emergency every 8 minutes. To learn more about becoming a volunteer, visit www.redcross.org/volunteer.