Yesterday afternoon was the kick-off event for Campaign RED, our annual workplace giving campaign, and I think the sugar buzz has yet to wear off. (I ate one too many of the cookies frosted to look like red crosses.) It was a great time though.
There was a feast of all-red treats (including the aforementioned, adorably addictive cookies):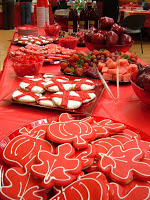 And an all-red fashion show (featuring many of our brave staff and volunteers):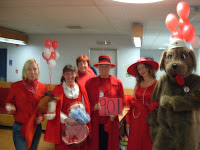 And our CEOs even joined the red fashion bandwagon: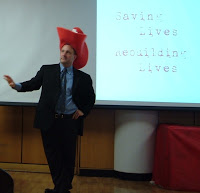 All this was to remind us why we're here – why we give our blood, money, and time to this place.
And it worked! I just talked to our accounting department, and we've already raised nearly half of our campaign goal (which is $35,000).
So I guess it's time for me to go color in the big poster downstairs that tracks our "pledge progress". And while I'm a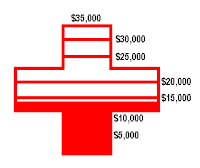 t it, I'll make a digital one for you all to see too. Here you go:
Oh yeah, and just fyi, you can donate to the campaign if you're not an employee as well. Development tells me that they've got a cool EFT (electronic funds transfer) thing set up so that non-employees can have small amounts automatically deducted from their account every month, rather than donating in one big chunk. Pretty cool.
Okay, off to color in the cross…